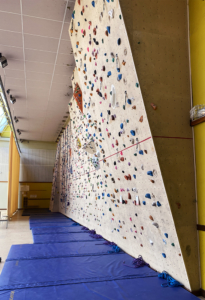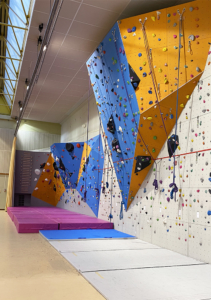 RENOVATION OF A CLIMBING WALL:
Partial or total change of climbing surfaces

Resurface or painting existing walls in the factory or on site.

Addition and/or replacement of complete belay lines or belay points
Addition of mid-height relays for large walls
Addition of tamper-proof fixed belay quickdraws

Enlargement of climbing surfaces

Addition of a bouldering wall
Addition of a campus board
Addition of an approved speed wall with belay system

Addition of a timing system

Addition of one or more auto-belay systems

Addition of a line painted at 3 m high (red, for example) indicating the height not to be exceeded without rope

Replacement of Pyramide 1 m x 1 m MGV polyester plates by 1 m x 1 m wood panels equipped with inserts, without changing the frame
Our field experts are at your disposal for any quote.
PYRAMIDE TIPS
Holds and macros can be reused, including screws. 
Only reinstall the holds after washing and sorting them.
It is imperative to change all belay points and screws during a renovation, a standards upgrade, or disassembly/reassembly.
Be aware that all Pyramide climbing walls can be resurfaced and repainted on site.