AUTO-belay
Pyramide offers an auto-belay system by TwinPoint. It is positioned at the top of the wall at the level of the belay chains and automatically blocks the rope when a climber falls, then gently lowers them to the ground if the tension is prolonged.
An automatic system eliminates the risks associated with human error (belay error, poor technique among beginners, for example) and allows you to climb high alone, safely, without a partner.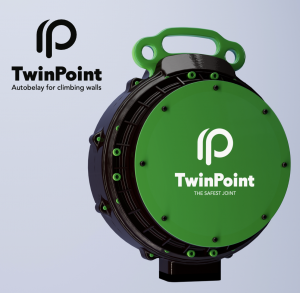 Auto-belay systems are natural additions to :
climbing gyms: supervising staff can be reduced, and climbers can train without a partner. The investment is recouped very quickly.

schools or learning centres: the system can be used as an emergency belay when learning belay techniques

special events: the systems allow for a safe, rapid rotation of participants, with reduced supervisory staff

on speed walls
Auto-belay systems can also offer a particularly secure, fast and continuously available way to access the top of walls (to access ropes stored in the upper part, for inspection visits).
They attach to existing belay chains.
Pyramide TIPS
Install these systems on beginner climbing routes (inclined or vertical) and in rooms open to the public without special supervision.
Install these systems at the top of speed walls on a specific console.