About 
Designer, manufacturer and installer of climbing walls since 1987.
Founded April 10, 1988 by Yvon Barde and Hervé Jacob, Pyramide specialises in the design, manufacture and installation of indoor and outdoor climbing walls. Its headquarters and production unit are based in Bondoufle, France, in the Essonne Department (91), 25 km from Paris.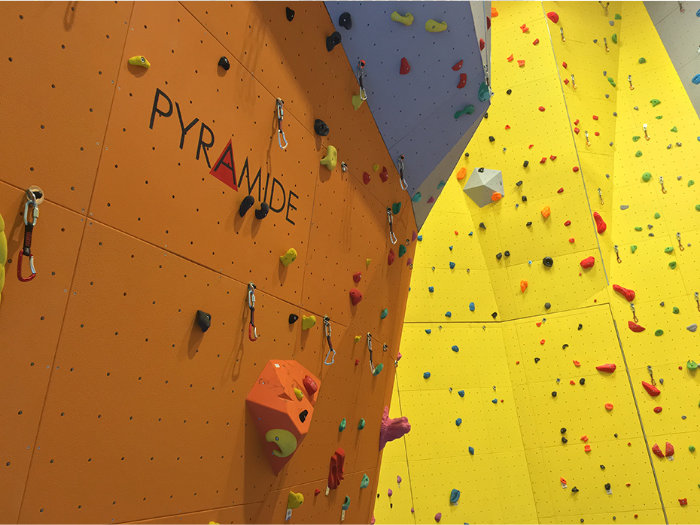 In 1987, Pyramide participated in the installation of the largest climbing wall ever built for an international competition during the 1st World Indoor Climbing Championship in Grenoble, France bringing together for the first time 19 nations from 5 continents.
The 1st French Championships were held on a Pyramide climbing wall (Avignon 1988, Laval 1989, Béziers 1990, Briançon 1991, Aix-les-Bains 1992, Toulouse 1993, Tours 1994, Besançon 1995, Grabels 1999). 
Pyramide has participated in 37 World Cups, 4 European and World Championships, 2 Asian Championships, 2 Oceania Championships, and 1 Pan-American Cup.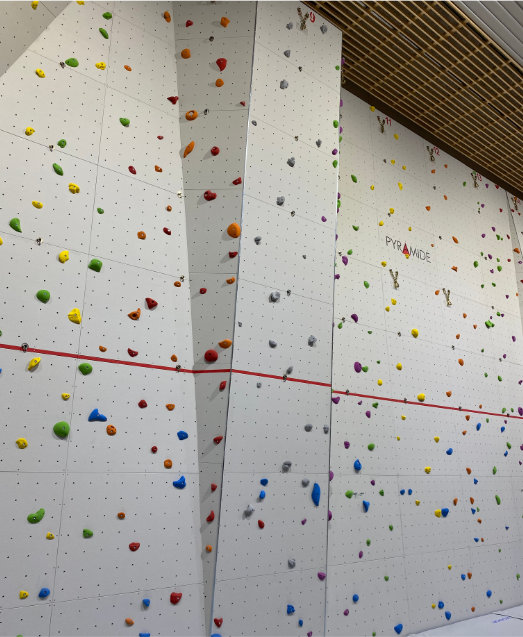 Pyramide products feature 3 industrial patents: holds, climbing plates and attachment system. Pyramide has 2 other branches in Baltimore and Tokyo. 
Pyramide initiated the development of the French standards of 1993 leading to European standards of 2007 and 2009 then of 2017 (EN 12572-1 rope wall, EN 2572-2 block and EN 12572-3 climbing holds).
In 1998, Pyramide created the 1st climbing wall for swimming pools, the "AquaClimb."
In 2000, a new 2,500 m2 production unit was built in Boudoufle, in the Essonne Department (91).
Pyramide imposed the creation of a red line at the height of 3 metres to indicate the height not to be exceeded without rope and initiated the creation of a secure system preventing the rope from escaping at the top of the track (double inverted carabiner). 
Since 2006 all Pyramide climbing walls are 100% sustainable (1st in the world) and PEFC-certified. Pyramide has oriented all its production towards the sustainable, the renewable and the local.
Pyramide – Important Dates:
Pyramide initiated the French standards regulating the safety of climbing walls (1993), leading to the European standards of 2007, revised in 2017.
1987 1st world indoor climbing in Grenoble and presentation of the MGV (Climbing Wall with Variable Geometry) composed of polyester imitation rock climbing plates. 
1988 Founding of the company Pyramide and supplier of the climbing wall for the French Climbing Championships in Avignon.
1989 Official Supplier of the French Federation of Mountaineering and Climbing (FFME) for all National and International competitions, first standards meeting on the safety of climbing walls.
1989 French Climbing Championship in Laval.
1990 French Climbing Championship in Béziers and creation of polyester macros in plates of 1 m x 1 m.
1991 French Climbing Championship in Briançon
1992 French Climbing Championship in Aix-Les-Bains and World Cup in Kobe, Japan.
1993 French Climbing Championship in Toulouse and World Cup in Aix-Les-Bains, officialization of French standards on the safety of climbing walls.
1994 French Climbing Championship in Tours.
1995 French Climbing Championship in Besançon, Youth World Championship in Laval, World Championship in Geneva, creation of a dedicated service in charge of safety maintenance of climbing walls.
1996 European Climbing Championship at the Zenith in Paris.
1997 World Climbing Championship at the Zenith in Paris.
1998 Creation of MagNets climbing holds (patented system) with removable and magnetic colour identifiers.
2004 First removable polyester macros fastened on the inserts of climbing holds.
2006 PEFC-certified wooden frame and non-slip, resin-free wood panels (1st in the world).
2007 First departmental-approved rope wall in Montélimar (26)
2008 First regional-approved rope wall in Vierzon (18).
2010 First departmental-approved bouldering wall in Ballée (53).
2013 First large-scale removable macros in wood panels.
2015 Creation of a revolutionary resurfacing process for wood and polyester surfaces: a Pyramide wall never dies.
2016 Climbing is recognized as an Olympic sport and will be present in Tokyo in 2021 with a combined event bringing together three disciplines: lead, bouldering and speed.
2017 First National climbing wall Made in France, 100% sustainable and renewable, in Bordeaux (33) at the Ginko Gym – 42 m wide x 13 m high.
2018 Removable macros 100% sustainable and renewable.
2018 Track signage and transparent anti-friction plates under belay and track top points.
2018 Development of a revolutionary insert attached by 3 fixed points.
2019 Removable anti-wear rope system and integrated track numbering system
2020 Pyramide will create at the Millau Aquatic Centre (12) a bouldering wall and a National rope climbing wall, 42 m wide x 13 m high, open to the outside for use by the general public.