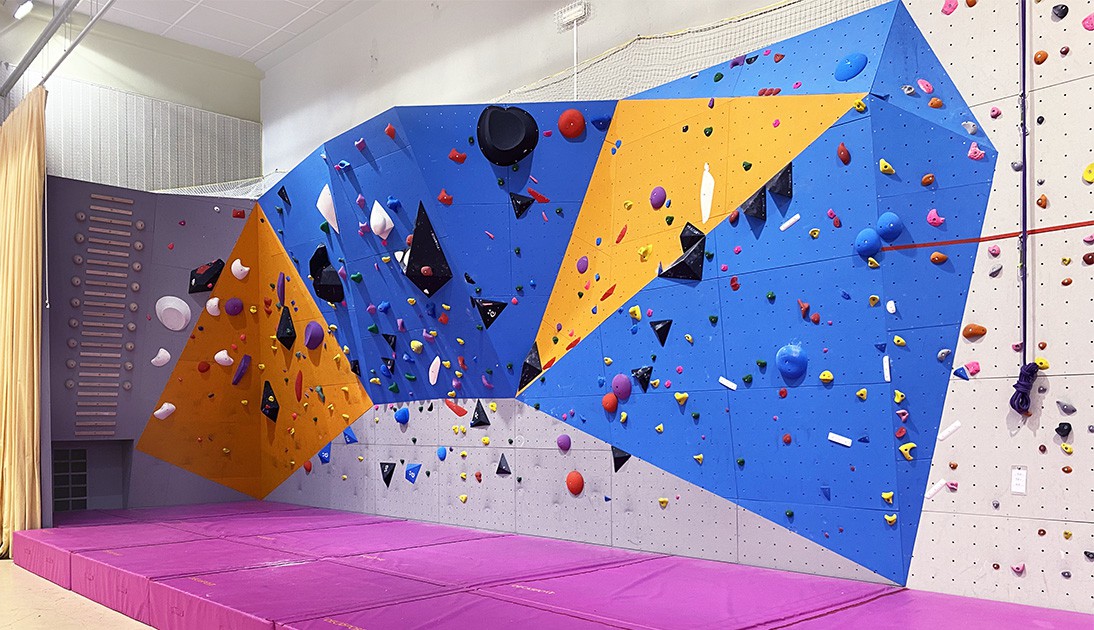 bouldering
A bouldering wall makes it possible to create a specific training surface in a reserved area. It is useful when climbers reach a level that requires targeted training, such as for cliffs or competition.
Bouldering is an activity in its own right and is the subject of separate competitions. The bouldering wall can be installed alongside a rope or speed wall.
The bouldering wall also makes it possible to accommodate on a relatively small surface school groups learning to climb. The practice by definition does not use rope and allows for simplified safety management by supervisors. Specific and standardised mats are installed at the foot of the wall.
design recommendations
Minimum width: as wide as possible, as the width determines the number of active users.
Departmental: 24 m.
Regional: 36 m.
National : 42 m.
International : 51 m.
Maximum height : 4,50 m high above the landing area (mat ref NF EN 12572-2:2017).
Width of the climbing span: 3.00 m minimum.
Configuration: provide any type of incline, 75% of which are overhangs. All tracks must be visible simultaneously to the supervisor. Care must be taken when users approach the climbing surfaces.
Number of removable holds: 15 /m2.
Number of removable macros: 1 / 1.5 m2.
Support: can be attached to any support: concrete, cinder block, glued laminated timber, metal frame or free standing
Landing area : interior = removable landing mats / exterior = rolled gravel 10/15 calibre, 30 cm to 40 cm deep (NF P90/312 et EN 12572-2:2017).
Clearance zone : overhang x 2,5 m.
Safety : Mat of 30 cm or 40 cm in accordance with standard NF EN 12572-2:2017.
Other equipment / comfort: lighting, minimum intensity = 300 lux, uniform / heating and ventilation temperature: 14 °, hot air must not accumulate at the top of the wall.

our services on request :
design assistance

free advice / quote without obligation

assistance in the drafting of specifications

engineering & technical information (support resistance, standards information, etc.)
Our field experts are at your disposal for any quote.
pyramide tips
When building a gym, plan a dedicated climbing room or space.
Use a curtain, preferably opaque, to separate the climbing wall from other sports areas.