design recommendations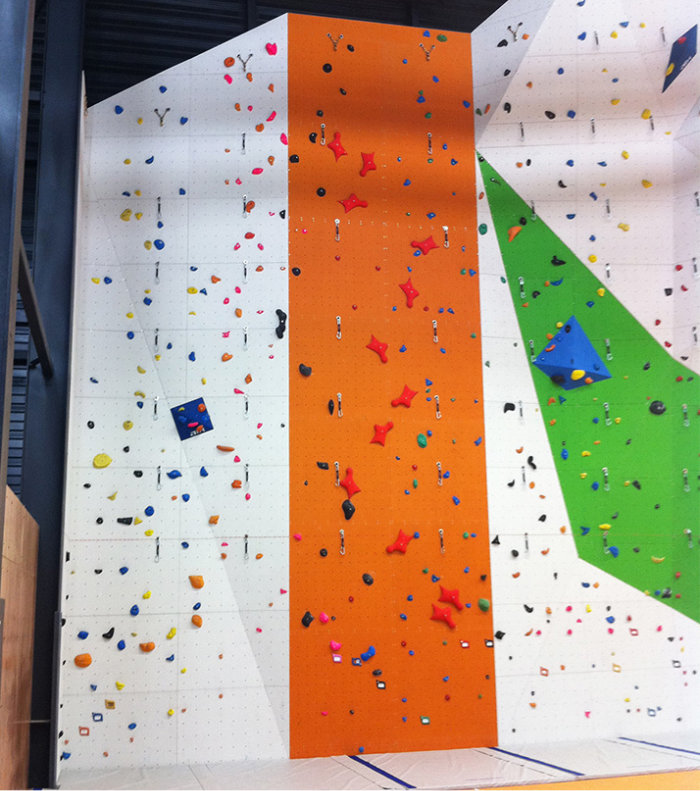 Speed climbing is one of the three disciplines in official climbing competitions along with bouldering and rope climbing.
Challenge for the climber: reach the top of a climbing route as quickly as possible. This practice takes place on an approved wall where everything is pre-defined: dimensions, arrangement of holds and incline.
You need one or two identical parallel tracks.
In competition, the events take place in pairs.
The sound of a buzzer signals the start. When the climber takes their foot off the ground, a system connected to an electronic mat triggers the timer. The timer stops as soon as the climber presses on the buzzer located at the top of the wall.
Climbers are attached by rope to a reeled auto-belay system.
dimensions
Width: 3 m per track (so 6 m for two parallel tracks)
Height: from 9 m to 16 m depending on the classification of the climbing wall
Departmental: 9 m – 1 lane of 3 m wide recommended
Regional: 11 m – 2 parallel lanes of 3 m wide recommended
National: 13 m – 2 parallel lanes required, with timing systems and auto-belays
International: 16 m – 2 parallel lanes required, with timing systems and auto-belays
Configuration: continuous incline of -5° is required.
Use approved speed holds.
Landing surface: interior = reception mat or cushioned flooring
Clearance zone: overhang x 3 m.
Other equipment / comfort: lighting minimum intensity = 350 to 750 lux depending on classification, uniform / heating and ventilation temperature: 14 ° C (hot air must not accumulate at the top of the climbing wall).
See link IFSC (International Federation of sport Climbing) : https://www.ifsc-climbing.org/index.php/2-uncategorised/79-manufacturers
our services on request :
design assistance

free advice / quote without obligation

assistance in the drafting of specifications

engineering & technical information (support resistance, standards information, etc.)
Our field experts are at your disposal for any quote.
pyramide tips
Provide removable belay points on the speed wall so that the surface can be used for other types of climbing outside of competitions by adding classic holds and macros.